With the Olympics approaching, Nonsense Hockey will be breaking down each team group-by-group to give you a little glimpse of how things may shake out in Vancouver. The teams will be ranked by points. After pool play, the top four teams will get a bye and teams seeded 5-12 will play quarterfinal matches. The winners will play the top four seeded teams in a battle for Olympic gold.
Team:
Czech Republic
Current IIHF Rank:
6
Outlook:
I really like the looks of this team on paper. The 2006 bronze medalists are back with a solid roster and have solid firepower throughout their line-up. In goal, Tomas Vokoun (Nashville Predators) is solid with Olympic experience and has the potential to steal a game here and there. What stands out is their holes defensively; Pavel Kubina (Atlanta Thrashers) and Marek Zidlicky (Minnesota Wild) will anchor the defense, but after that your best option is either Filip Kuba (Ottawa Senators) or Jan Hejda (Columbus Blue Jackets).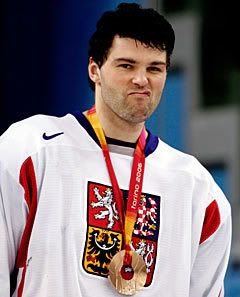 Offensively the team should be able to bury the puck, with Martin Havlat (Minnesota Wild) and former NHL stud Jaromir Jagr (Avangard Omsk) leading the charge. Patrick Elias (New Jersey Devils) is a quiet leader who will captain the team and David Krejci (Boston Bruins) is a slick playmaker who would look good on a line with Jagr. This team will hold its own and score some goals, but at the end of the day may not have the depth necessary for a short tournament like the Olympics.
PREDICTION:
6th
Team:
Latvia
Current IIHF Rank:
10
Outlook:
Latvia is playing in it's fourth Olympics and third consecutive after going 66 years between appearances. After finishing 12th in 2006, there is certainly room for improvement and this team may be able to build on its disappointing finish in Italy. A team short on NHL talent (four North American players) and long on Dinamo Riga players (fourteen) the team may be troubled defensively. Latvia did tie the United States in 2006, something they look to build on here. They also had Arturs Irbe between the pipes then. Edgar Masalskis (Dinamo Riga) will likely be the starting goaltender after starting all seven Olympic qualifying games and putting up stellar numbers which included a 2.53 GAA and a .928 save percentage. Martins Karsums (Norfolk Admirals) and Herberts Vasiljevs (Krefeld Pinguine) are two of the teams top offensive threats, and captain Karlis Skrastins (Dallas Stars) will anchor the back end, but they simply don't have the depth to run with the big guns, especially having to face Russia, Czech Republic, and Slovakia in pool play. Tough draw there.
PREDICTION:
10th
Team:
Russia
Current IIHF Rank:
1
Outlook:
This team is certainly going to be fun to watch, if nothing else. The goaltending is set with Evgeni Nabokov (San Jose Sharks) and the offense is going to be lights out. Hockey purists are already dreaming of seeing Alexander Ovechkin (Washington Capitals), Evgeni Malkin (Pittsburgh Penguins), and Ilya Kovalchuk (Atlanta Thrashers) working together to create what could be the most explosive Olympic hockey team in recent memory.
Round that out with other dynamic players such as Pavel Datsyuk (Detroit Red Wings), Alexander Semin (Washington Capitals), and Maxim Afinogenov (Atlanta Thrashers) and you have a team that will score goals by the bunches. Defensively the team needs a shutdown defenseman or two, but Sergei Gonchar (Pittsburgh Penguins) will be steady along with Andrei Markov (Montreal Canadiens). The team is not built on playing defense, it's built on scoring goals—and a lot of them. In a short tournament like that, that's okay. They may rely on Nabokov to bail them out, but all they have to do is get the puck over the oppositions blue line and they become an automatic threat to start lighting up the scoreboard. A deep run is almost guaranteed and I look to see Russia competing for gold against Canada in 2010.
PREDICTION:
Silver medal
Team:
Slovakia
Current IIHF Rank:
8
Outlook:
Slovakia is coming off its best Olympic finish ever, a 5th place showing in 2006, but I look at 2010 as a step backwards for Slovakia. Goaltending is suspect; it's a toss-up between the young Jarsolav Halak (Montreal Canadiens) and Peter Budaj (Colorado Avalanche). Budaj did play well in 2006, going 2-1-0 with a 2.01 GAA, but Halak may get the nod over Budaj despite Halak's inexperience. Defensively the team can push the play on the back end with Zdeno Chara (Boston Bruins), Lubomir Visnovsky (Edmonton Oilers), and Andrej Meszaros (Tampa Bay Lightning) all being experienced puck movers who can shoot the puck and start the breakout. Offensively the team runs thin, with a significant falloff after Marian Hossa (Chicago Blackhawks) and Marian Gaborik (New York Rangers).
Case and point? Jozef Stumpel (Barys Astana) and Zigmund Palffy (HK 36 Skalica) will both be counted on to score goals. That could be a problem. It will be fun to see Marcel Hossa (Dinamo Riga) and Marian Hossa playing together, should they be on the same line. Overall, despite having some elite level scorers, there is a significant drop-off on the bottom three lines and the Slovaks simply cannot compete with the big guns in this tournament.
PREDICTION:
8th
Stay tuned as I may get some quick hits and predictions in before tonight's action. The Group C preview is upcoming for tomorrow at Nonsense.