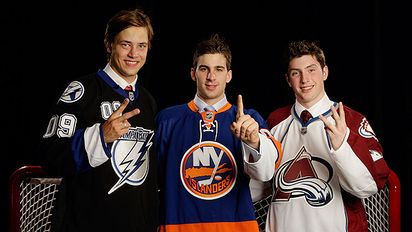 Nonsense Hockey's first ever poll has ended an the fans have spoken. Tuukka Rask came away with 35% of the votes on who has been the top rookie this season. John Tavares was 2nd, with 28% of the votes. There were no big surprises in the voting. Nonsense has a rather large Bruins fan base, attributing to the Rask victory. Tavares was expected to grab some votes because of the name.
I was extremely shocked to see that people overlooked a player like Tyler Myers. The 6'8" monster defenseman has chipped in 6 goals and 20 helpers thus far. Perhaps he is not the household name in the NHL like Tavares, but that will change soon. Matt Duchene started hot, cooled off, and is now performing just fine. His season totals are 13 goals and 16 assists. Not bad statistics for a rookie, but he does see 17-20 minutes of ice time on average. Jimmy Howard has been lights out for the Red Wings this season. Boasting a 2.17 GAA and .928 save percentage, the Red Wings should be more than happy with his progress.
After waiting several seasons for the chance to play
, he is thriving.
There are a handful of other rookies around the league looking to make their names known as well. Semyon Varlamov was playing outstanding in net for Washington before he was demoted to the Hershey Bear of the American Hockey League. Nicklas Bergfors has been a pleasant surprise for the New Jersey Devils this season. After spending the previous 3 seasons with Lowell (AHL) developing his skills, the Swedish right winger has scored 13 goals (8 on the power play), and picked up 14 assists. Another winger in James Van Riemsdyk has not done anything spectacular, but the former UNH Wildcat will be looked upon for big things in the future for the Flyers. Like Myers, Michael Del Zotto is having a tremendous rookie season on the blue-line. Tied for Myers with 6 goals, he also has 16 assists, but carries a -15 in plus/minus.
Jamie Benn (DAL), Ryan O' Reilly (COL), Evander Kane (ATL), and Scott Parse (LA) round out the top 10 in rookie scoring. Victor Hedman of the Tampa Bay Lightning is a rookie defenseman who is hard to leave out. The 2nd overall pick in the most recent draft has done exactly what the Lightning wanted out of him. On paper, he only has 4 goals and 10 assists, but he plays big minutes and strong defense, attributing to a +3. Buffalo's other rookie, Tim Kennedy, has evolved into a nice third line center. Expected to be a playmaker with some grit, the Buffalo native
has found a home-at-home
for years to come. Some players that are starting to be noticed include Dan Sexton (ANA), Rob Schremp (NYI), and Brandon Yip (COL) have played in 21, 25, and 11 games, respectively. None of these 3 players were really expected to help the big club in any way this season, but they are starting turn heads.
In other news:
-The Ducks-Kings game got ugly last night, deaturing four fights, including Raitis Ivanans vs. Ryan Carter? Well, that is because Ryan Carter had a dirty hit Kings' Captain Dustin Brown earlier in the contest. Props to Carter for actually willing to drop the mitts though. 'The Code' does still exist after all. Corey Perry got ejected in the final minutes, Bobby Ryan took a questionable run at Kings' Oscar Moller, resulting in a 5 minute charging major and a game misconduct. We will see if any suspensions are handed out, but Bobby Ryan told the media he would be shocked if he was. By the way, the Kings won the game 4-0.
-Zdeno Chara likes to take slappers from the hashmarks in shootouts. Did you know that? Bruins won 2-1 over the Sharks in the shootout.
-Brodeur shutout the Rangers.
Mike that is
.
Do you think Curtis Joseph is Hall of Fame worthy? Let us know by voting on the right side of the page! The poll will expire in one week from today. Please feel free to share your thoughts in the comments section regarding rookies, Joseph, and other nonsense. Perhaps I will chime in with more Nonsense tonight, but until then, look out for Buotte's Olympic Preview: Part 1!
Good day all!